Our Research and Policy Officer Erica Holt-White looks back at this year's sporting successes, and what they tell us about social mobility.
Over the past year, we witnessed some truly unforgettable sporting moments, with stars making an impact both inside and outside of their field. From Emma Raducanu becoming the first female British tennis grand slam winner in 44 years, to Marcus Rashford receiving an honorary doctorate from the University Of Manchester for his campaign work against child poverty. In a period of uncertainty and hardship, sport has been the shining light for many.
Events like the Olympic Games often inspire the next generation of athletes to get involved. But for disadvantaged young people, access to the high quality facilities and expensive equipment often needed for professional success can be limited.
So, how representative were the athletes in this year's sporting success stories?
Looking back at 2021
Tokyo Olympics and Paralympics
In this year's Olympic games (postponed from 2020), Team GB were extraordinarily successful, equalling their amazing medal haul from London 2012, coming fourth in the overall medal table.
Looking at the team's educational backgrounds, 40% of Team GB's medallists attended an independent school, making them nearly 6 times more likely to do so than the population as a whole.
Some sports were more heavily dominated by private school alums than others, with rowing, sailing and hockey all having large proportions of former independent school pupils.
Figure 1: Percentage of Team GB medallists at Tokyo 2020 who attended a private school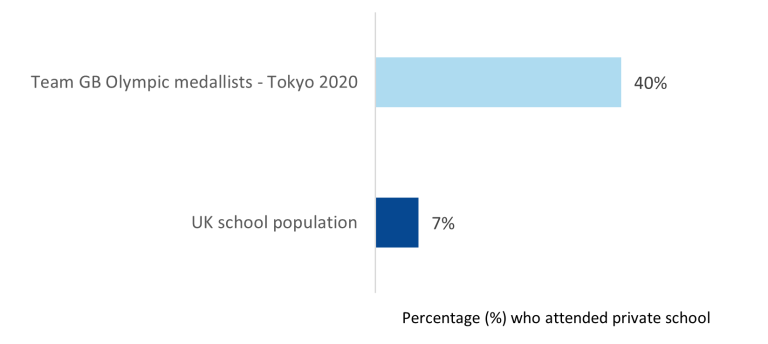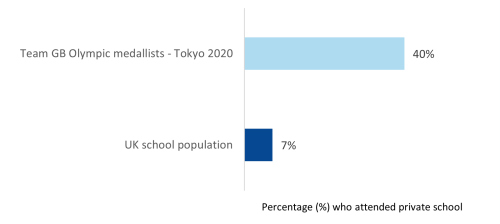 The proportion of medallists who attended a private school is up by 9 percentage points on 2016, when it was just 31%, and slightly lower than in the London 2012 games, when the figure was 36%.
Looking at university attendance, 55% of Team GB went to university, with 1 in 5 attending a Russell Group institution.
This year, for the first time we have also looked at the backgrounds of Team GB Paralympic gold medallists. GB's Paralympians also had an extremely successful games, beating their performance at London 2012, and coming second overall in the medals table.
Compared to the Olympic team, gold medallists in the Paralympic team were less likely to have attended an independent school. Just 18% were privately educated, compared to 32% of our Olympic gold medallists. However, this is still a far high proportion than the population as a whole.
Euros 2021
This year also saw England's men's football team reach the Euros 2021 final. Back in the summer, we looked at the educational backgrounds of the team. As a sport, football is a fantastic example to other sports, with 88% of the squad having attended a comprehensive school, exactly the same proportion as the general population. Just 8% had attended a private school, again, similar to the population as a whole.
Improving access
Whilst there are other factors at play affecting the likelihood of attending a certain school for sportspeople (for instance, public school scholarships may be offered to students if they excel at a particular sport), there are still clear inequalities in access to elite level sport in the UK.
Access to facilities and equipment plays a big part in participation, with sports including rowing, sailing and show jumping requiring particularly expensive resources that prevents those from poorer socioeconomic backgrounds from taking part.
For disabled young people particularly, access to specialist facilities and equipment is limited, meaning that not all sports are fully inclusive. Indeed, research has highlighted that disabled people in the UK are only half as likely as non-disabled people to play sport regularly.
Moreover, as independent schools frequently have the funding to invest heavily in sports facilities, and often boast high quality facilities, those who attend such schools are more able to participate in sports. Across a variety of school sports, it has been found that 53% of national school competitions were won by state schools and 46% by independent schools, despite 86% of competing schools coming from the state sector.
Looking to 2022 and beyond
Whilst sporting events have certainly united society together in a common experience this year, for many reasons, this is unfortunately no guaranteed this will translate into increased participation in sports more widely, especially for those from disadvantaged backgrounds.
For young people who have been inspired by the fantastic feats of the nation's footballers, Olympians and Paralympians to be able to achieve their dreams, more still needs to be done to make sport accessible to all.
The author would like to thank Alice Gent and Lewis Tibbs for their contribution to the analysis used in this blog post.