Our Research and Policy Officer, Erica Holt-White, discusses the potential impacts of today's A Level results. 
Today has been a first, with thousands of students in England, Wales and Northern Ireland receiving A-level results based on teacher assessments and a statistical model, instead of receiving their grades following a set of exams. While we are starting to build the picture, the full effect of this new system and its impact on the prospects of young people across the country will not be known fully today. We plan to look in greater detail at the impact these changes have had in the near future, particularly looking at which groups have been most likely to lose out in the process. Nonetheless, from the Trust's latest polling of university applicants release this week, it is already clear that uncertainties and worries ahead of this year's exam results, along with concerns about what university will look like this autumn, are both having a considerable impact on applicants.  
1 in 5 students applying to university this year have changed their plans or were uncertain about attending university this autumn as a result of the pandemic. Of those still uncertain, half were worried about achieving the grades to get into their first-choice course, 42% worried the quality of education wouldn't be as good as usual, and just under a quarter (24%) were worried about taking on student debt.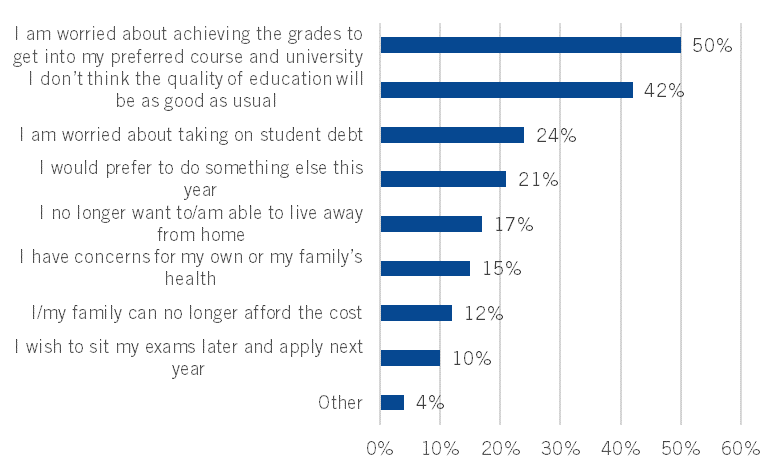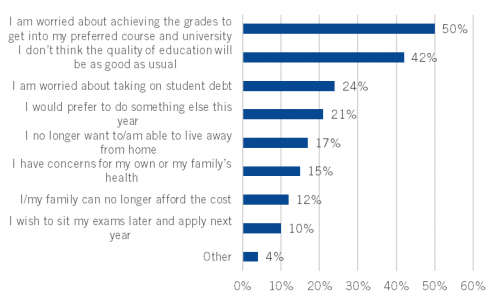 While only 5% of applicants have so far made the decision to defer before results day, 32% said the pandemic has made it less likely they will begin university this autumn. Just over a third (34%) of applicants reported the pandemic had increased the likelihood they would need to use Clearing or Adjustment, whilst 34% also reported being more likely to take a gap year.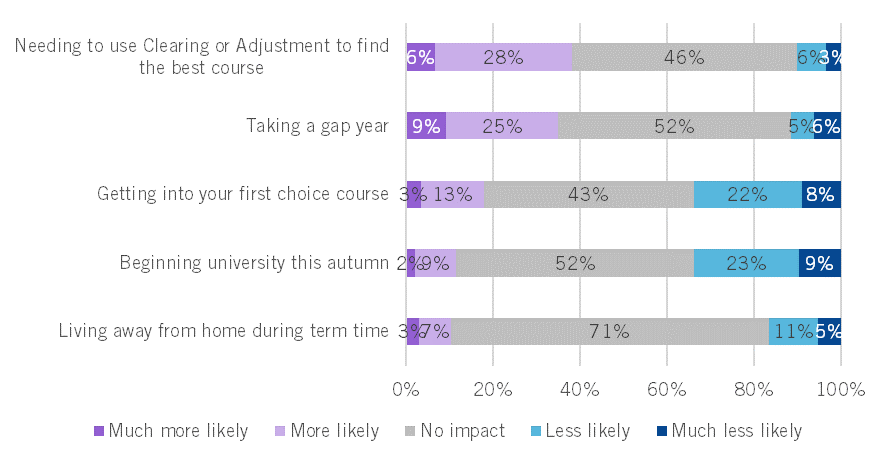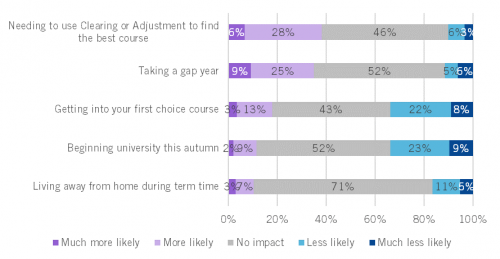 Our polling also uncovered concerns about attending university in an unprecedented year; social activities at least in the first semester are unlikely, with a blended model of face-to-face and online teaching expected for the foreseeable future. We found that three quarters (73%) of applicants are worried about how the pandemic will impact their ability to take part in university social life over the next 12 months, and two thirds are worried about the impact of little or no face to face teaching. Just over half (54%) are worried about the possibility of catching or spreading Covid-19. 
Furthermore, working class applicants were the most worried about moving away from home at 36%, compared to 33% overall. They were also more concerned about the cost of living at 66%, compared to 62% overall. BAME applicants were also more likely to be worried about living away from home; 42% reported being worried about this over the next 12 months compared to 30% of white applicants.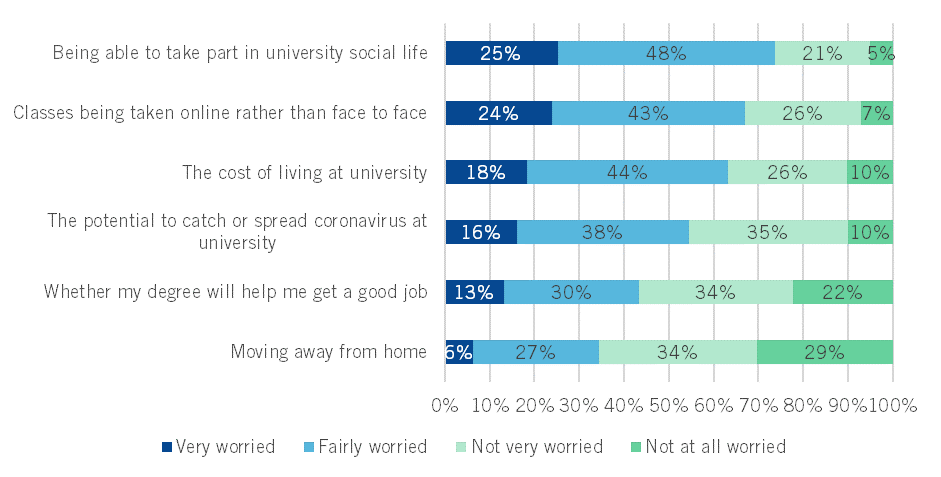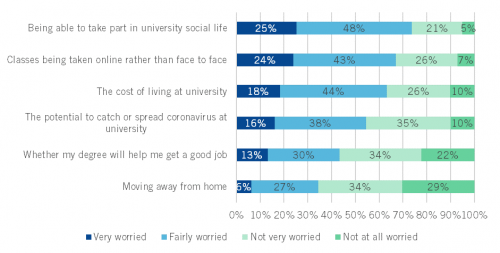 Ensuring students from poorer backgrounds do not suffer due to the system put in place to replace exams this year should remain paramount. The Trust have strongly urged Ofqual to closely monitor attainment gaps in the new grading system, and to consider how best to respond if substantial gaps open up. To ensure students can have confidence in this year's system, it is also important that the appeals process is fair and accessible to all, with any fees waived so that there are no financial barriers to the appeals process. This is especially important given the government's recent announcement that mock exam results can be used as a part of these appeals. In theory, this could give a chance for high performing students at historically low performing schools to have their results corrected, but needs to be fully accessible to all if it is to improve fairness. There are also significant questions about the consistency and validity of mock results across schools, and it is vital that the appeals process puts such marks in the correct context. 
However, while accessible appeals are important, given the short time frame available, quick action will also be needed by universities. We welcome the recent call by Universities Minister Michelle Donelan for universities to be flexible in their admissions this year. The Trust have long advocated for institutions to make greater use of contextual admissions, basing offers both on a student's grades and the context in which they were achieved. This year, universities should use the same principles to recognise that students' grades have been awarded in the most extraordinary of circumstances, and give students the benefit of the doubt if they have just missed their offers, particularly those from less well-off backgrounds or attending more deprived schools.  
As we have covered in our recent series of impact briefs, the current crisis has affected every aspect of young people's journey through education and onto the workplace. However, we have also shown that there are plenty of opportunities for government, universities and employers to mitigate the worst impacts of the pandemic. Results day is a crucial time, and despite the stress, anxiety and confusion caused by this year's grading process, with the right actions, long-term damage to young people's futures is not inevitable.