Lee Elliot Major on the changing parliamentary educational elite
"British democracy recognises that you need a system to protect the important things of life, and keep them out of the hands of the barbarians. Things like the opera, Radio Three, the countryside, the law, the universities … both of them."  As with so many other things, the fictitious Sir Humphrey Appleby summed it up perfectly in the classic 1980's BBC TV Comedy Yes Minister.
Just about every politician and civil servant encountered in Yes Minister and Yes Prime Minister is educated at either Oxford or Cambridge. All except Prime Minister Jim Hacker, who is treated with disdain for having studied at the lowly London School of Economics. Sir Humphrey of course is an alumnus of 'Baillie College', Oxford.
Plus ça change – at least you might think so according to figures produced this week by a great new data resource on new parliamentary candidates in 2015 general election. The study considers the 224 constituencies that have the potential to change hands. Out of these 224 seats, 200 new candidates have been selected by the main political parties.
The most noteworthy finding is that 17% of Labour candidates attended Oxbridge – exactly the same proportion of Oxbridge graduates among the Tory candidates.
That sounds like quite a lot of potential MPs from just two elite universities, but it doesn't necessarily represent a blow to social mobility. The study has yet to confirm the school backgrounds of this group. Among their number is the Etonian Boris Johnson who was selected as Tory candidate for Uxbridge and South Ruislip. From Oxbridge to Uxbridge you might say. But they also include Labour's parliamentary candidate for Ilford North Wes Streeting, a state school pupil who attended one of the Sutton Trust summer schools that enable non-privileged students to get into Cambridge and other leading universities.
If many of the Oxbridge candidates of a similar ilk to Wes then it will mean a job well done for the Trust. Improving access to universities is one of ten recommendations in the Trust's Mobility Manifesto – a roadmap for improved social mobility being discussed at fringe meetings at all the major party conferences over the coming weeks.
These latest figures for parliament's new recruits also confirm a trend of diminishing representation from the two ancient universities over the last 50 years. When we looked at the educational backgrounds of the new parliament in 2010 we found that just under three in ten MPs in the House of Commons were educated at either Oxford or Cambridge universities. I've combined the historical figures we quoted in our 2010 report below to chart the change in percentage of Oxbridge educated MPs over time.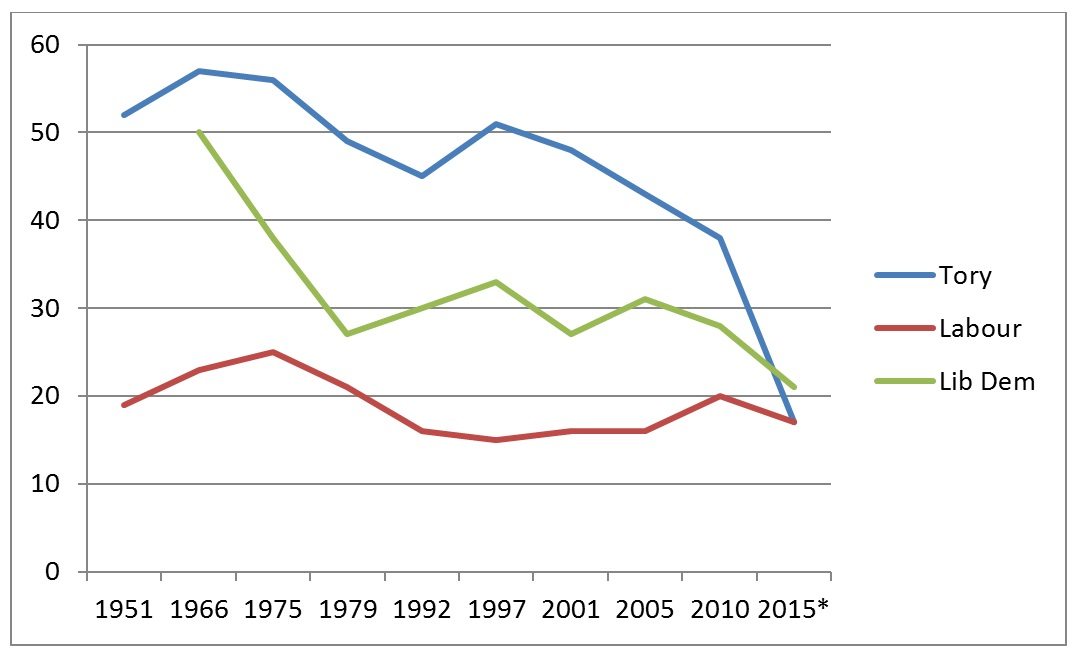 What's interesting is that the new recruits of 2015 are the first cohort where Labour and Tory candidates are equally likely to have attended Oxford or Cambridge. This may point to greater diversity in the university backgrounds of MPs. But it also highlights how similar all the main political parties have become. The Trust will produce a full educational breakdown of the new parliament after the general election next May.
The closer to power the more educationally elite our elected politicians become. Around 60% of those attending the latest UK Cabinet went to Oxbridge and 50% are privately educated. The UK is not alone in this respect. I recently looked at President Obama's US Cabinet and found that 58% attended Ivy League (which make up just 0.4% of US undergraduate students).
The same challenge applies to both cabinets: they are totally unrepresentative of the people they are intended to serve, and are clearly in danger of what some have termed 'group think' – a lack of diversity of perspectives when making decisions.
The same could be said of the upper echelons of Whitehall as a whole. Last month's Social Mobility Commission report confirmed that 57% of senior civil servants came from Oxbridge's 'dreaming spires'. A few years ago meanwhile I asked for the educational backgrounds of special advisers to Ministers (SPADs) and found that 80% of those who responded had been to Oxford or Cambridge. Even Sir Humphrey may have been shocked by that statistic.