Our Employability Programme Manager Gemma shares what students and our industry partners made of our online programming this month.
The April holidays saw our Pathways team pivot from face-to-face programming to digital delivery. This included our Pathways to Law Plus conference and Pathways work experience placements. 336 students engaged in these new digital Pathways programmes, which included 60 webinar sessions delivered by 114 volunteers from 20 of our partner organisations. Earlier this week, our Director of Programmes, Laura Bruce, shared her reflections on adapting to digital delivery and we summarised our learnings in this article on our "Top Ten Takeaways for Online Delivery."
In part two of our digital delivery series, we are excited to share our evaluation data and case studies from those who took part. We will continue to monitor and evaluate this cohort of students through surveys, data tracking and qualitative interviews to better understand how the shift to digital delivery has impacted students, if at all. 
Here is what we know for now: 
Attendance and engagement rates 
We were due to support 280 students in this time period through face-to-face delivery. Our biggest concern when devising the programme was engagement rates; we were concerned that students either would be less interested in online sessions or would not have access to technology to enable this. This didn't prove to be the case with 336 students attending – a  16% increase on students we expected to support in April and a total of 49% of all programme participants attending the online programmes.  
On average, our Pathways to Law Plus students attended 17 (out of 20) webinars and our Pathways to Law & Pathways to Banking & Finance work experience students attended an average of 9 (out of 12) webinars.  
Given the short notice and quick shift to online delivery at challenging and difficult times, we were impressed by engagement rates and look forward to increasing attendance even further on our summer programmes as we develop those timetables in line with our findings on students' technology access and the best times for online delivery. 
Student feedback 
For an immediate snapshot of the impact of the programme, we send out student surveys to monitor attitude and behaviour changes. Of our 336 attendees, 93% completed our survey to share their feedback. The average session rating was 7.3 (on a scale of 1-9, with 1 = not at all useful, 9 = very useful). A closer snapshot of the quantitative feedback further shows that the vast majority students found the programming both positive and useful.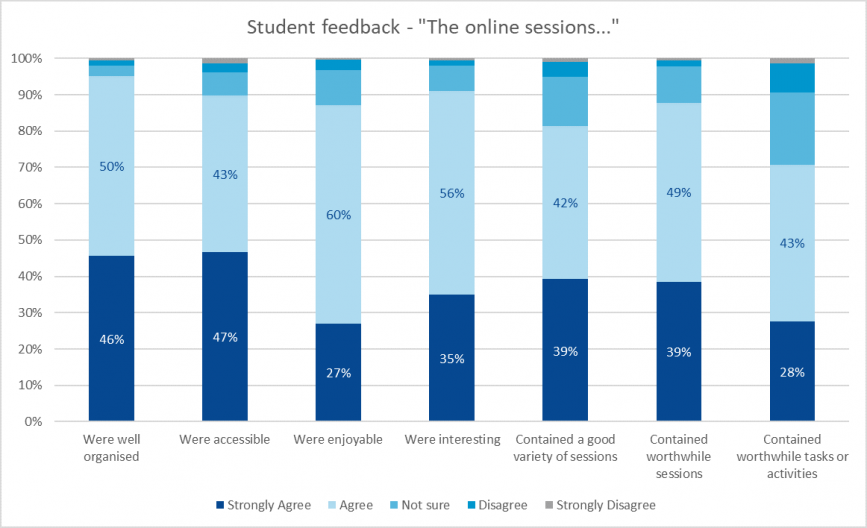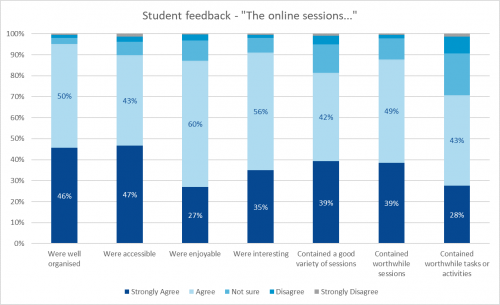 In addition to quantitative data, we also value qualitative data, which allows us to better understand individual viewpoints and experiences. This word cloud of the language students used in their surveys highlights the importance too of why it is especially important now to continue supporting young people and providing outreach activity and programming for them.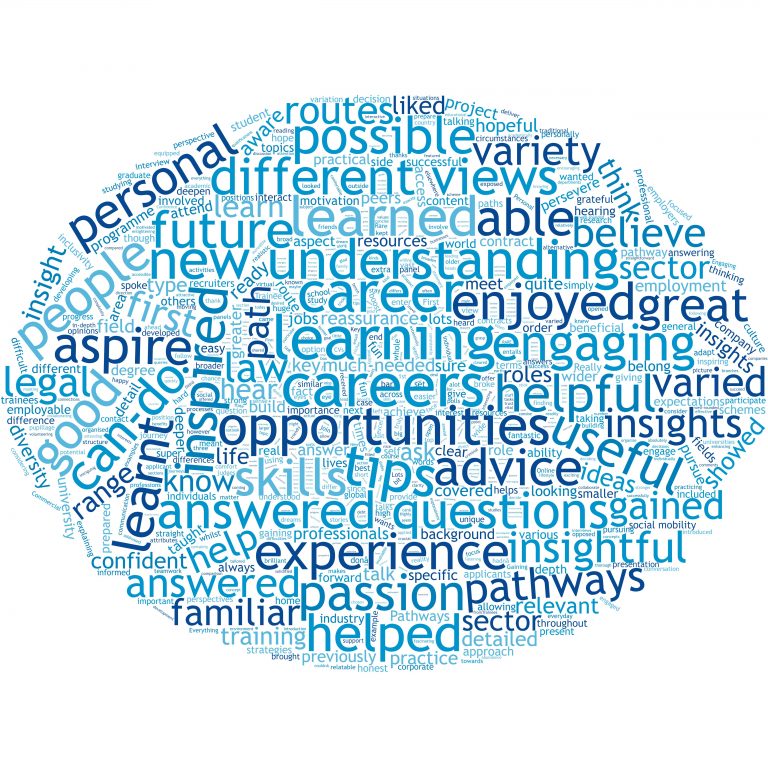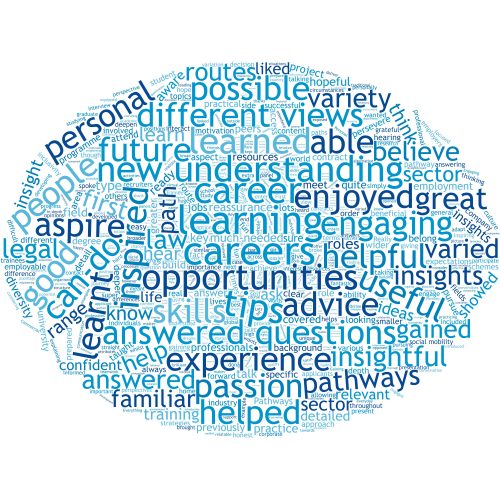 Our participants' perspectives 
Bronte Crowley, Student on Pathways to Law at University of Leicester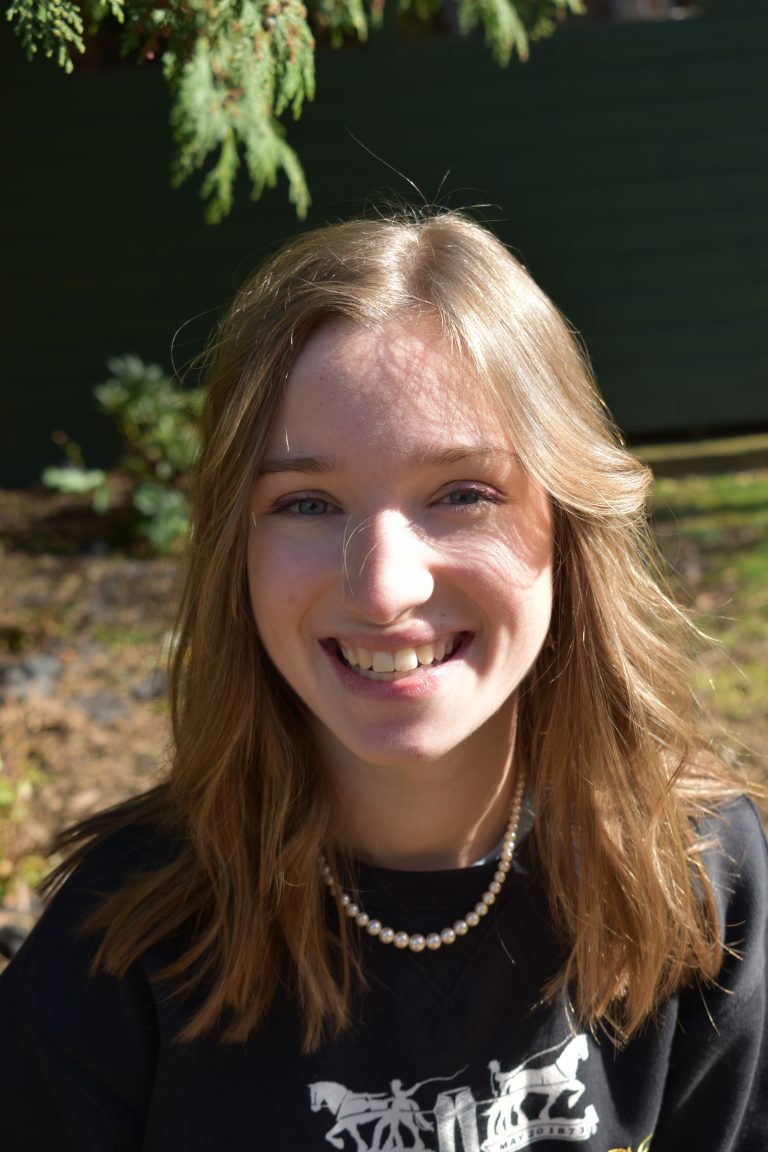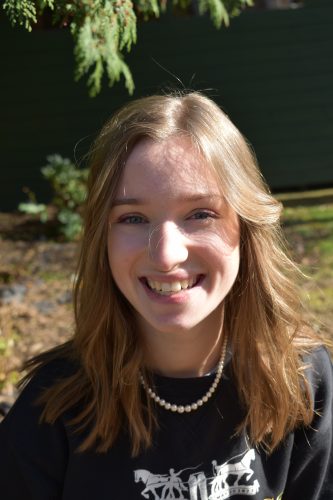 "A week of virtual work experience… in my Easter holidays… I was hesitant to say the least – how would I ask questions? Could I really do group work in a virtual classroom? What could I learn about the life of a lawyer from my bedroom? But these are unprecedented times, and everybody has to be flexible. By the end of the week, I was glad that I had embraced this opportunity. 
After saying a virtual 'hello' to my group members, whose locations ranged from Liverpool to Leicester, we began researching the mock acquisition of a chocolate company, that we would later present. To do this, I put into practice some of the key attributes of being a lawyer, that had been discussed in my ongoing webinars. Being involved in the group work, meant that despite social distancing and the current state of lockdown, we were all able to be connected and feel part of a team – something that, amongst the chaos, I had missed. It also mirrored what I imagine working in an office in a law firm would be like, as we were able to discuss our individual tasks with each other, offering help and guidance. At the end of the week, we presented our opinions on the potential acquisition to a panel at Squire Patton Boggs, who in return gave helpful suggestions which broadened my initial thoughts of the task. I was proud of how we worked together as a team, despite the distance.  
Before the virtual work experience week, I had never been in a room with one barrister but by the end of the week I had been in a Zoom room with more than eight! The webinars invited questions from fellow Pathways to Law students – something I was worried about at first as I couldn't think of any. However, as soon as the webinar started the Q and A section was inundated by insightful questions, ranging from asking the lawyers' opinions on diversity in law, to how their work has changed since the start of the pandemic. The lawyers responded to these questions with honesty and individuality; even digitally, their passion for law came across. It helped me to focus on different areas of law that I had never thought of before. Even the complex area of capital markets, that I found difficult to grasp at first, became clear as numerous questions were answered. Most surprising to me was a fascinating session with a Coroner, a role I had never considered, that immediately piqued my interest and inspired me to research deeper into this field. 
The characteristics demonstrated to us by the lawyers throughout the week, like good communication skills and thinking outside the box, are something that I intend to work on in the hope of one day practising them as a lawyer. This experience was invaluable and one I was honoured to give up a week of my Easter holidays for!" 
Squire Patton Boggs' reflections – Pathways to Law work experience week: 
Wendy Ramshaw, Inclusion and Diversity Manager at Squire Patton Boggs (UK) LLP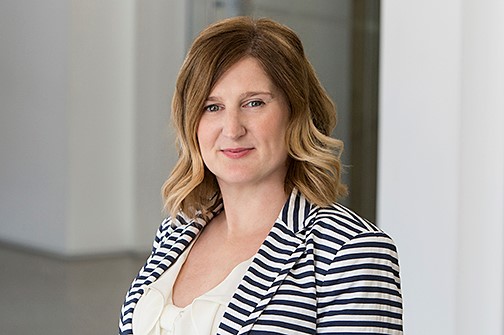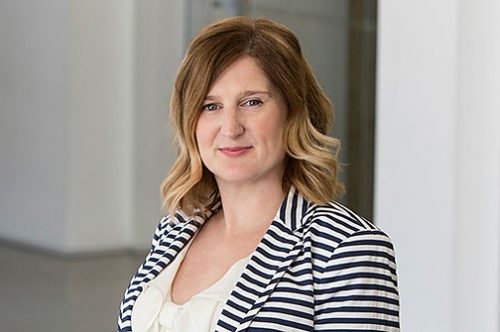 "Social mobility is a key part of our wider Inclusion & Diversity strategy and having taken part in the Pathways to Law programme previously, we were determined that the coronavirus disease 2019 (COVID-19) would not stand in the way of delivering our outreach plans. 
The most significant benefit of being involved in the week was seeing the energy and enthusiasm of the students, which gave us the confidence that virtual initiatives can add tremendous value to young people and connect them to the legal world without them physically being in our offices. While we will always welcome students to spend time with us in our offices, the addition of a virtual offering means that we can extend our support further. 
By adapting our approach, we were able to re-create the work experience through self-directed learning, project work and online workshops connected to real-life legal matters. We were so impressed with the calibre of the presentations at the end of the week, as they demonstrated how much the students had picked up throughout their week on the programme. Dialling into the daily Zoom meetings, chatting to the students and seeing everyone on the screen also brought a smile to our faces during these strange times.  
We are now working with other social mobility organisations and universities to provide similar opportunities over the coming months for young people interested not only in a career in law, but also in understanding the world of work." 
Deutsche Bank's reflections – Pathways to Banking & Finance work experience week: 
Amy Harris, Senior Corporate Social Responsibility Manager at Deutsche Bank 


"Whilst the coronavirus pandemic was unfolding, a small team from Deutsche Bank's CSR and HR divisions were preparing for 50 students on the Pathways to Banking and Finance social mobility programme to come into our London and Birmingham offices for their work placements. As more people moved to working from home and a lockdown was introduced, it became clear this year's placements would need adapting for the programme to maintain its aims of reducing the barriers to banking and finance.   
The expert team at the Sutton Trust quickly developed a comprehensive plan to move virtual. It relied on employee volunteers from Deutsche Bank and other partners to deliver 12 expert sessions on topics including Insights to Wealth Management and Hearing insights: Recent Graduates. For Deutsche Bank, where 25% of employees volunteer each year, the opportunity for people to support young students virtually since the pandemic began was a welcomed innovation.  
Tarik, from Fixed Income and Currencies, was one of the six employees who gave their time and skills to deliver a session. Sharing his knowledge through an Insights to Banking and Finance workshop, he recalls his experience: "I was very happy to support! I found the session enjoyable and very interactive (despite it all being held remotely)."   
Through Born to Be, Deutsche Bank's global CSR programme which supports 11-18 year old state secondary school students in the UK, we know the importance of raising aspirations for young people who may not know that a career in finance is open to them. Whilst moving virtual tested our tech skills and relied on detailed briefings with volunteers, it ensured high-achieving students were able to gain valuable and unique insights from a wide range of industry experts.  
We look forward to welcoming the students into our offices soon for a true experience of working at Deutsche Bank!"