As the cost of living crisis continues to bite, the impact is being felt across the country, from households, to businesses, and also in the public sector. That includes schools, many of which are finding their funding stretched thin by rising costs.
Today's polling of 1,428 teachers and senior leaders, part of our yearly teacher polling series conducted by the National Foundation for Educational Research (NFER), paints a stark picture of the situation faced by state schools in England. Across the board, schools are being forced to make cuts, from teaching assistants to school trips, support staff and sports.
Schools having to make cuts is not new, but the rate at which senior leaders are reporting these issues has risen sharply since 2022 (see table 1). For example, cuts to teaching assistants are now reported by 63% of senior leaders, up from 42% last year. Reports of cuts to spending on IT equipment have now risen to 42%, up from 27% in 2022.
And reports of cuts to trips and outings have more than doubled, now standing at 50%, up from 21% – a proportion that is even higher in schools with the most disadvantaged intakes, at 68%, compared to 44% in the least deprived schools. These findings are especially concerning given the importance of school trips in broadening the horizons of young people in low income families, who are less likely to have these experiences outside of those provided by school.
Table 1: Areas cut for financial reasons in schools.
| | | |
| --- | --- | --- |
| Areas senior leaders report making cuts: | 2022 | 2023 |
| Teaching assistants | 42% | 63% |
| Trips and outings | 21% | 50% |
| IT equipment | 27% | 42% |
| Sports and other extracurricular activities | 15% | 26% |
| Support staff | 33% | 40% |
Pupil premium funding is designed to allow schools to give additional support to the poorest children. However, the funding is increasingly being swallowed up by the need to fill funding gaps elsewhere.
This year, 41% of senior leaders said they were using pupil premium to plug gaps in their budgets, up from 33% last year, and the highest figure since the Sutton Trust first started asking this question back in 2017 (Figure 1).
Figure 1: Proportion of senior leaders reporting pupil premium is being used to plug gaps elsewhere in their school's budget.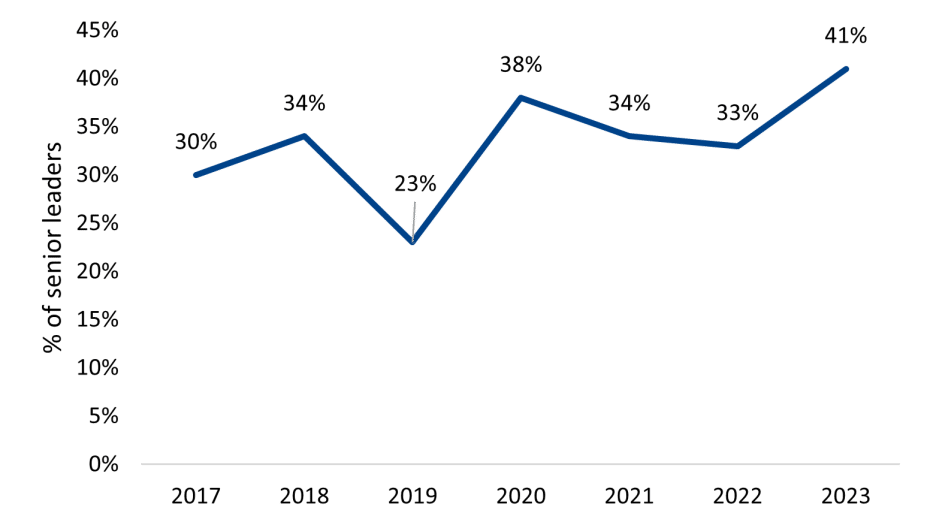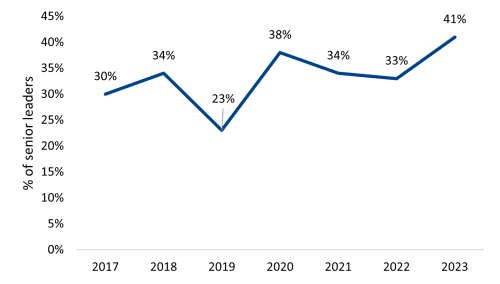 As well as ongoing financial pressures, our new polling of teachers also finds that many schools are experiencing issues with teacher recruitment. 71% of senior leaders reported difficulties recruiting teachers this year, with over a quarter (26%) saying this was to a great extent. This is similar to the proportion saying the same the last time we asked this question in 2019, when 70% reported difficulties, showing there have been no real improvements in recruitment issues in that time.
Schools have had a difficult few years, facing major stresses during the pandemic, supporting students to catch up on lost learning when they returned to class, and now facing the fallout of the cost of living crisis. Teachers have worked hard to do what they can to support students, but more support is desperately needed from government.
We have previously highlighted how funding for catch up has been lower in England than elsewhere, and the need for additional support. Now, coupled with the impacts of the cost of living crisis, the need for additional funding in schools is clear. The government must urgently review the funding given to schools in light of these findings, particularly those serving the most deprived communities.