Sutton Trust intern Mariyum writes about the first alumni-led event which took place in London last week.
On Thursday 23 January, Sutton Trust alumni came together in central London, at an event organised by three members of the Alumni Leadership Board: Michelle Sebelle, Natasha Holcroft-Emmess, and Gemma Collins.  
As an alum of two programmes (Pathways to Law & UK Summer School 2015) and a Sutton Trust intern, my experience of the event was twofold. The evening began with drinks and networking. My first conversation was with Mel Hoxha (Pathways to Law 2010) and Rachel Carvell-Spedding (Summer School). Mel and Rachel both talked about their career pathways and how the Sutton Trust had been a key touchstone in their journeys. Both women showcased formidable resilience and achievement and before the panel presentation had even begun, I was already deeply inspired.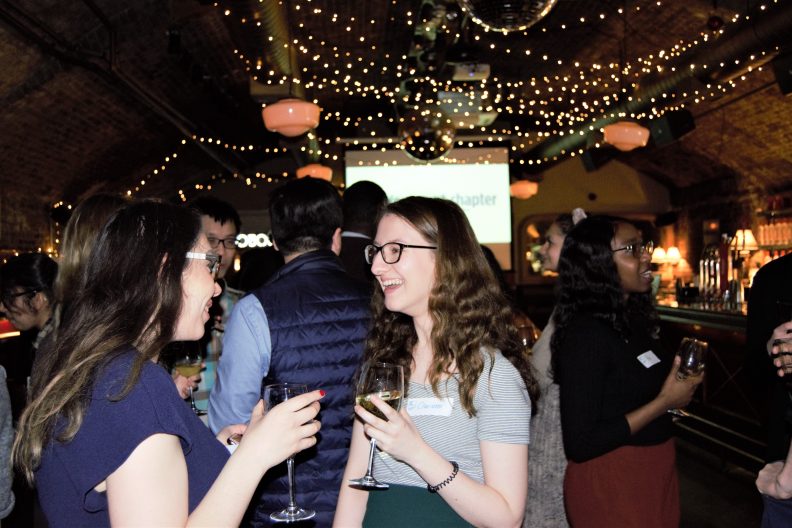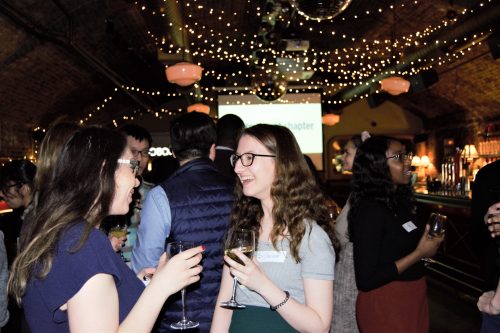 Mel said, "In a world where social mobility is stagnated, I feel like the Sutton Trust is at the forefront of the challenge. The Trust's research in particular, on a daily basis, is outputting a truly insightful and impactful message to everybody – we can always do more."
On my way to the seating area, I met an alum who had attended the same UK Summer School as me and we had attended university together. What a small world! My excitement was shared by forty other attendees that night; we were all connecting the dots in our own ways.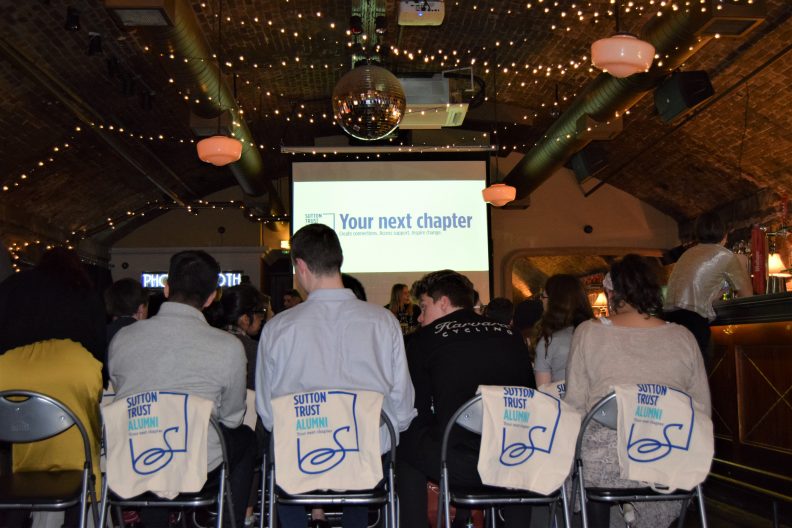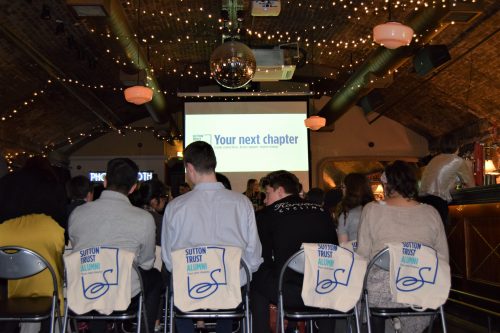 Michelle Sebelle (Summer School 2014), a member of the Alumni Leadership Board, welcomed the senior alumni panel. Activist Gina Martin was the first panellist and she shared her story of how she made upskirting illegal in the UK. Tahmid Chowdhury (US Programme & Pathways to Law 2011) then discussed his not-for-profit company 'Here for Good' which provides free immigration advice to vulnerable EU citizens living in the UK. Rachel Carvell-Spedding, another alum entrepreneur, talked to us about the challenges of building her own sustainable knitwear brand 'Navygrey' while raising a family. Barrister Jo Moore of One Crown Office Row was our final panellist and discussed her struggles with practical barriers such as scholarship application fees and personal barriers such as imposter syndrome.  
She said, "It's hard to not look like the people around you. When you can't relate to their experiences, it can be very alienating. You have to make a place your own."
All panellists had unique stories, yet one common thread bound them all: they took control of disadvantage and used them as tools. Barriers keep changing as we enter new stages of our professional lives. The panellists urged fellow alums to take proactive steps to transform their hindrances into assets, while also bearing in mind that many of the challenges they face come from structural factors that the Sutton Trust is trying to address.  
As Tahmid said, "Everyone here on this panel, every alum with a success story to tell, has got to where they have based on luck. I feel lucky to have had the opportunities I have had. And that's the problem. People from backgrounds like us feel lucky to be where we are and do things other people may take for granted. This is the issue the Sutton Trust is trying to address. We shouldn't need to feel lucky to be here as if we are the successful few."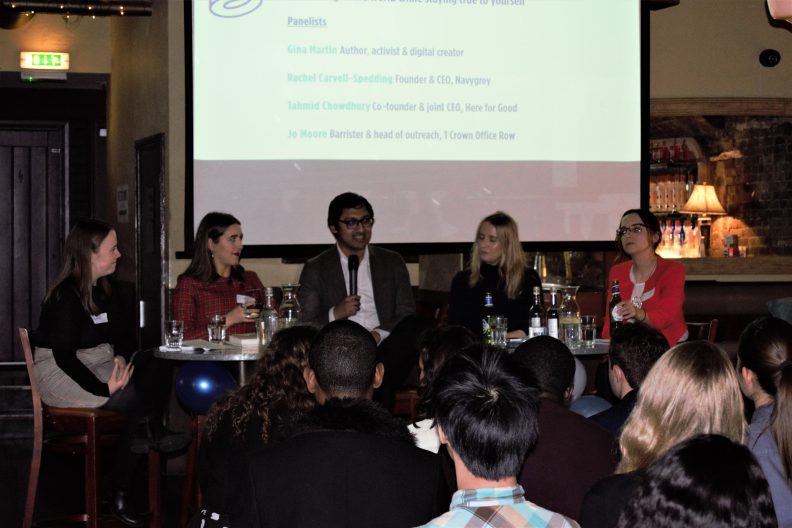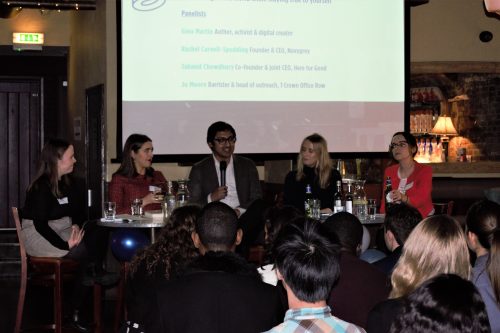 I had the pleasure of hearing some incredible stories and I had the opportunity to share my own. Alums at all stages of their professional timeline reflected on how the Sutton Trust played a central part in their stories.  
Abdella Mohammed said, "After completing the Summer School at the University of Edinburgh, I did not properly reflect on the value of such an experience. This event has helped bring me back to the importance of attending the Summer School. I have better perspective now."
Rachel Carvell-Spedding said, "The Sutton Trust community is building up a powerful reminder that when we go into the world of work, though it can seem very lonely, you are not alone."
The evening was a chance to celebrate stories and reaffirm that the Sutton Trust alumni network is here to help everybody connect the dots in their stories. A big thank you to Gemma Collins, Michelle Sebelle, Natasha Holcroft-Emmess, Rachel Wornell, and Jess Adams, for all their hard work in putting together this event for everybody to enjoy. We look forward to seeing more alums connecting the dots in Leeds, Birmingham and St Andrews in February. 
Alumni who have activated their accounts on suttontrustalumni.com can check out all the pictures from the night.