In the next blog in our 'A Fair Start?' series, June O'Sullivan, CEO of London Early Years Foundation, argues that reforming the 30 hours policy should be central to the levelling up agenda.
There is a lot of rhetoric about supporting children to level up, especially after the negative impact of COVID-19, but responses are often left to individuals or organisations to actually sort out.
Boris Johnson's call earlier this year for leaders to come to Government with ideas to solve problems and improve local services at a county level is interesting. He wanted to use place-based responses to reduce the inequality within local areas which had fewer resources or less political capital to engage with central government. He recognised that pockets of innovation and best practice are often happening across the UK but these are often reliant on the energy of individuals in a professional and personal capacity to make such a change.
The continuous improvement wheel at the London Early Years Foundation (LEYF) is driven by regular lubrication from what we call, 'action research oil'. The result is lots of conversations, questions, challenges and research activities which produces evidence that drives good practice. One recent activity was our Doubling Down research – the first of its kind.
For context and those who don't know, all three and four-year-olds in England are entitled to 15 hours of early education and childcare per week for 38 weeks of the year. Since 2017, children in families where both parents (or the lone parent in a lone-parent family) are working and earning above a certain income level per week are entitled to an additional 15 hours. There is a salary cap for eligibility, but this only comes into effect if either or both parents earn over £100,000, meaning two parents could have a combined income of £199,998 and still be eligible.
However, during the summer when we were able to bring all the children safely back to nursery – we were really shocked to see some of the most disadvantaged children return hungry, anxious and developmentally delayed as a result of lockdowns and the impact of living in poverty. We decided to figure out how we might double the number of funded hours and later approached Permira Foundation and Barclays 100 x 100 COVID-19 UK Community Relief Fund who financed this project. This also included an external evaluation.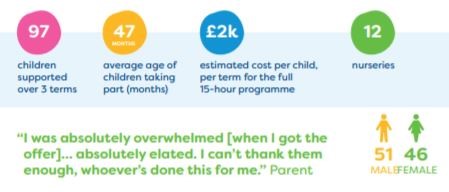 Between October 2020 and July 2021, 97 children (in 12 of our 39 social enterprise nurseries) were offered an additional 15 hours at nursery each week.
As a result of the extra funded hours:
• Over 70% of parents and staff saw a positive impact on their child's communication skills, social development and behaviour
• A profound positive impact on the mood, sleep, empathy, school readiness and nutritious eating amongst children was observed by staff and parents.
• A reduction in the amount of screen time, especially as many of the children had spent months living in high rise flats with no access to a garden or opportunities to play outdoors.
• Over three quarters (77%) of parents said their own health and wellbeing had improved, with a further 85% more engaged in at-home learning with their children.
Staff noted that by providing the extra hours at nursery also significantly benefited parents, many of whom were caring for children with Special Educational Needs and Disabilities (SEND).
Staff morale also benefited because they felt they had more time to support vulnerable children's learning and development effectively.
Learning and development amongst disadvantaged three-and four-year-olds improved by an average 8% in seven key EYFS Learning and Development areas. The largest improvement was a +12% increase in Communication and Language (from 57% to 68%), followed by +9% across Mathematics (from 52% to 61%) and Expressive Arts & Design (from 67% to 76%).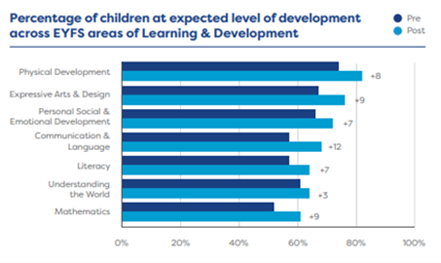 The Sutton Trust's recent report, 'A Fair Start – Equalising Access to Early Education' argues for extending the 30 hours funded places to children from disadvantaged backgrounds, either as a targeted extension or by making it universal. The estimated cost of universalising the 30-hour entitlement would raise spending by around £250 million in 2024–25. Extending the entitlement to disadvantaged three and four-year-olds would cost an extra £165 million a year. This is compared to the roughly £735 million that the existing 30-hour entitlement will cost.
So, back to Boris and his call for leaders to provide examples of good practice which we can learn from and be part of a systemic change. The fundamental change needed is how we systematically address child poverty. It is a scourge. Failure to close the attainment gap continues to have devastating consequences for many of the UK's children who live in poverty, especially the 1.3 million children who are under the age of five. Just look at the most recent report about disadvantaged white pupils.
The new Secretary of State for Education, Nadhim Zahawi must put Early Years central to levelling-up and support front-line services. We now have the robust evidence that Boris wants, and are willing to share this successful approach.
Click here to view the full Doubling Down Summary Evaluation Report.
The opinions of guest authors in our A Fair Start? series do not necessarily reflect the opinions of the Sutton Trust.