Our Research and Policy Officer, Erica Holt-White, discusses why unpaid internships are a social mobility issue. 
For many students leaving university, an internship is a vital first step onto the career ladder, allowing them to gain experience in their desired field. Previous Sutton Trust research has found that 39% of young graduates have done at least one internship.  
However, a high proportion (70%) of internships are unpaid, with over a quarter of graduates (27%) having completed at least one unpaid placement.  
And the costs of working unpaid are high. For many, it will mean moving out of their family home to a large city, with the associated financial pressures. For young people from lower income backgrounds, without financial support from their family, working unpaid is often impossible.  
And indeed, Sutton Trust research has found that many young people are locked out of internships.  While 43% of middle-class graduates have undertaken an internship, just 31% of working-class graduates have done the same.  
An economic downturn 
This situation is in danger of worsening due to the pandemic. This years' graduates are entering a very different economy, one in which opportunities are likely to be scarce.  
Recent Sutton Trust polling found that 61% of employers have cancelled some or all of their internships and work experience placements this year. Almost half (48%) also expect there to be fewer opportunities available over the next year.   
With permanent, paid opportunities likely to be limited, there is a risk that unpaid internships will increase, as employers attempt to cut costs (and indeed, there is evidence this happened following the 2008 recession). It is therefore more important than ever to crack down on such unpaid placements, to ensure opportunities remain accessible to all.     
That makes the private members bill due to be read today, proposed by Alex Cunningham MP, particularly timely. The bill would ban all unpaid internships lasting more than 4 weeks in length and is today having its second reading in parliament. The bill is also currently going through the House of Lords (sponsored by Lord Holmes). If passed, it would give much needed additional protection to interns, and long overdue clarity to the law in this area. 
The cost of working unpaid 
To coincide with the second reading of the bill, the Trust are today releasing an updated estimate of the minimum cost of taking on an unpaid internship in 2020.  
In London, the cost is an eye-watering £1093 per month (or £1011 if an intern's travel is covered), and a steep £905 in Manchester (£843 excluding travel).  
These figures underline the importance of action to tackle unpaid placements, as large numbers of young people simply cannot meet these costs.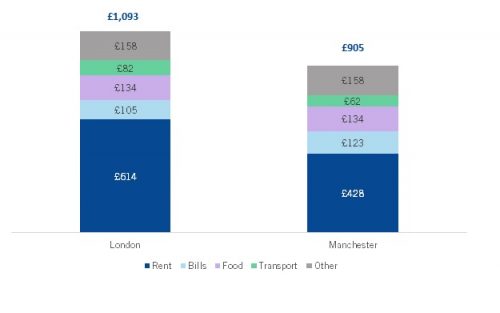 The minimum costs of doing an unpaid internship in 2020 
It is also important to keep in mind that our calculations are a real minimum – there are many expenses that have not been included here, but that are important not just for getting by, but for young people's wellbeing; for example travelling to visit family.  
Virtual placements during lockdown have reduced costs for some young people able to do their internships from their family homes (something usually only possible for those who live in London and other big cities). This provides a unique opportunity for companies to spread their net more widely and attract talent that may otherwise have been ruled out, and the Trust has strongly urged companies to move placements online rather than cancelling, where possible. 
However, this will not be an option for everyone. Many young people simply need to earn money to get by, and cannot rely on staying with family, or need to contribute to their family's household bills. Many will also not have a suitable space to work at home. And even if virtual placements stay popular after lockdown, they are unlikely to take over entirely. As offices start to re-open, the full costs of internships will return for many.  
Why is a change in the law needed?  
Internships are currently covered by minimum wage law, but the rights of interns are often not clear to either employers or young people. And even though a large number of interns are working unpaid, there have been no prosecutions by HMRC for wage-related internship cases in the past 5 years.  
Very few young graduates are aware of their rights, with around half unaware that unpaid internships are illegal in most circumstances. And even if they are aware, students may be willing to accept working unpaid to enter the job market, or they may be afraid to speak up for fear of losing their contacts in an industry they are trying to break into.  
Employers also often do not understand the law as it stands. For example, we found that half of employers incorrectly thought that an internship which gave an intern an allowance below the minimum wage was legal. Some employers may even claim that their interns are not expected to complete work, to justify not paying a wage.  
This bill would help bring this confusion to an end. A complete ban on unpaid internships over four weeks in length would clarify the position for both employers and young people. Ideally, all interns doing real work should be paid (and placements shorter than four weeks would still be covered by minimum wage law), but this bill strikes the balance between ending long unpaid placements, while also protecting short work experience and shadowing opportunities. 
The campaign to ban unpaid internships has previously been supported by Boris Johnson. However, despite this support, and despite clear evidence the current law is not working, the Government are not currently backing the bill, stating that in their view, the 'existing legislation is sufficiently robust'.  
With the UK now officially in a recession for the first time in over a decade, and an increase in unpaid internships likely, it is vital, now more so than ever, to make a change to protect disadvantaged young people. Banning unpaid internships is a vital step to open up access to entry-level roles to all.